What are Induction Bends ?

Induction Bending is a controlled means of bending pipes through the application of local heating using high frequency induced electrical power.
Originally used for the purpose of surface hardening steels, induction technology when used in pipe bending consists basically of an induction coil placed around the pipe to be bent. The induction coil heats a narrow, circumferential section of the pipe to a temperature of between 850 and 1100 degrees Celsius (dependant on the material to be formed). As the correct bending temperature range is reached, the pipe is moved slowly through the induction coil whilst the bending force is applied by a fixed radius arm arrangement.

Induction Bends/Spools and air/steam rings Tube Bending are manufactured by the process of induction heating in meeting diverse high quality requirements in accordance with ASTM, API, DIN, BS, ANSI, ASME PFI and other international technical specifications.
Manufacture of Induction Bends
Induction bends are formed in a factory by passing a length of straight pipe through an induction bending machine. This machine uses an induction coil to heat a narrow band of the pipe material. The leading end of the pipe is clamped to a pivot arm.
As the pipe is pushed through the machine, a bend with the desired radius of curvature is produced. The heated material just beyond the induction coil is quenched with a water spray on the outside surface of the pipe. Thermal expansion of the narrow heated section of pipe is restrained due to the unheated pipe on either side, which causes diameter shrinkage upon cooling.
The induction bending process also causes wall thickening on the intrados and thinning on the extrados. The severity of thickening/thinning is dependant on the bending temperature, the speed at which the pipe is pushed through the induction coil, the placement of the induction coil relative to the pipe (closer to the intrados or extrados), and other factors.
Most induction bends are manufactured with tangent ends (straight sections) that are not affected by the induction bending process. Field welds are made or pipe pup sections are attached to the unaffected tangent ends, allowing for fitup similar to that found when welding straight sections of pipe together.
Induction bends come in standard bend angles (e.g. 45°, 90°, etc.) or can be custom made to specific bend angles. Compound bends (out-of-plane) bends in a single joint of pipe can also be produced. The bend radius is specified as a function of the diameter. For example, common bend radii for induction bends are 3D, 5D and 7D, where D is the nominal pipe diameter.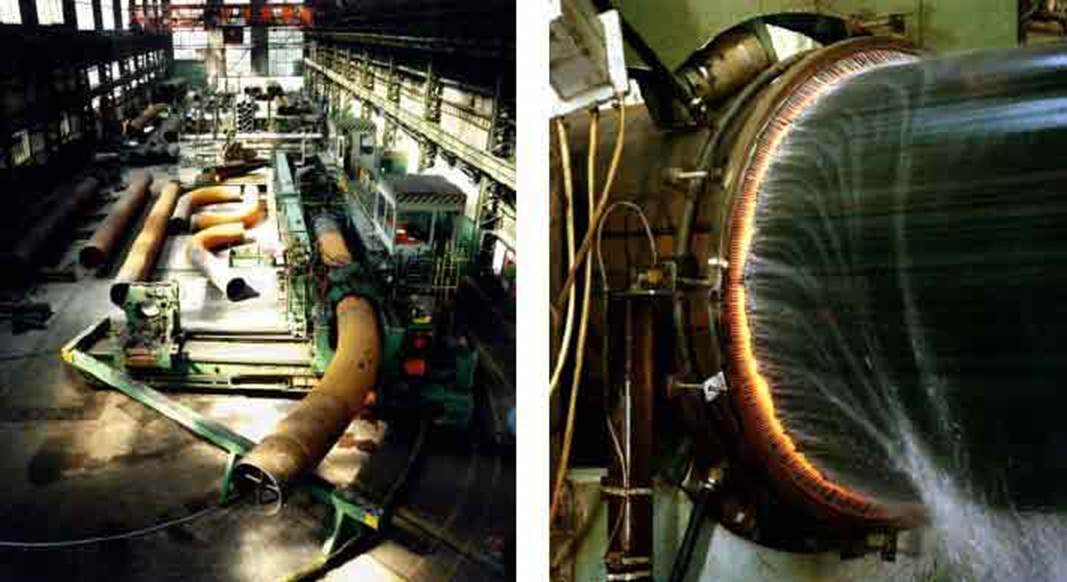 Applications
Oil & Gas Sector – Onshore and Offshore Sub-Sea applications

Refineries

Petrochemicals

Power Plants

Fertilizers

Metallurgical Industries

Shipping and other Infrastructure Projects
Bending Capablities
| | | | |
| --- | --- | --- | --- |
| Size of Pipes | 3" - 14" | 4" - 36" | 4" - 48" |
| Bending Radius (mm) | 1780 | 4575 | 7320 |
| Thickness (mm) | 5 – 50 UpTo 14" Dia Pipe | 6 – 36 for 26" – 36" Dia Pipe | 8 – 32 mm for 38" – 48" Dia Pipe |
Advantages
Large radii for smooth flow of fluid.

Cost efficiency, straight material is less costly than standard components (e.g. elbows) and bends can be produced faster than standard components can be welded.

Elbows can be replaced by larger radius bends where applicable and subsequently friction, wear and pump energy can be reduced.

Induction bending reduces the number of welds in a system. It removes welds at the critical points (the tangents) and improves the ability to absorb pressure and stress.

Induction bends are stronger than elbows with uniform wall thickness.

Less non-destructive testing of welds, such as X-ray examination will save cost.

Stock of elbows and standard bends can be greatly reduced.

Faster access to base materials. Straight pipes are more readily available than elbows or standard components and bends can almost always be produced cheaper and faster.

A limited amount of tools is needed (no use of thorns or mandrels as required in cold bending).

Induction bending is a clean process. No lubrication is needed for the process and water needed for the cooling is recycled.

Minimum wall thinning rate and ovality.

Precise bending radius and angle.

No pipe wrinkles.

Reduced oxidation or de-carbonization due to instantaneous heating.

Lesser impurities or scratches on the inner surface.

Diverse bendings: square pipe, flat bar, I-beam, H-beam, channel sash, etc.

Three-dimensional bendings without any welding.

Special heat treatment for stainless steel not required due to prompt heating and water-cooling.


Uniform hardness.



Major advantages of induction bending are:
Elbows can often be replaced by larger radius bends, reducing friction, wear and required pump capacity.
Induction bending reduces the number of welds in a system.
No welds at the critical points thanks to the tangents.
Less non-destructive testing, saving cost.
Induction bends are stronger than elbows with uniform wall thickness
Stock of elbows and standard bends can be greatly reduced.
Straight pipe is more readily available than elbows, reducing time to market
Bends can be made from the same base material as the straight pipe.
Induction bending does not need bend dies or mandrels. A simple clamping/ inductor set covers a wide range of radii and wall thicknesses
Induction bending is a clean process. No lubricants necessary.
ASME B16.49
ASME B16.49 Standard covers design, material, manufacturing, testing, marking, and inspection requirements for factory-made pipeline bends of carbon steel materials having controlled chemistry and mechanical properties, produced by the induction bending process, with or without tangents.
This standard covers induction bends for transportation and distribution piping applications (e.g., ASME B31.4, B31.8, and B31.11). Process and power piping have differing requirements and materials that may not be appropriate for the restrictions and examinations described herein, and therefore are not included in this Standard.
Thickness
Upto 14" dia pipe – 5 – 50mm
26" – 36" dia pipe – 6 – 36mm
38" – 48" dia pipes – 8- 32mm
Bending Process
The pre-inspected pipe having positive thickness is kept on the pipe carriage and clamped hydraulically on the rear carriage. The induction coil and cooling coils are mounted around the pipe.
The concentricity of induction coil is adjusted with 3-plane movement to assure the uniform heating by induction. The radius of bend is fixed by adjusting the radius arm and front clamp. The pointer is also set to the correct degree. The pipe is pushed forward slowly so as to clamp rigidly with front clamp. The pipe is marked for arc length and initial thickness / hardness measurements.
Before starting the bending operations the hydraulic pressure / water level / flow switches etc. are checked. The pipe is now heated by induction to the temp of 815 - 995 C. By pushing the pipe by push clamp the bending of the pipe is started slowly and carried out at speed of 10 - 40 mm/min.
The bending operation is stopped at the specified angle of bend and predetermined arc length. The bend is removed from the machine and kept on an inspection platform for measurement of tolerances.
Potential Material for Induction Bend

Carbon Steel (Seamless/Weld Seam) - (API 5L X42-52-60-65-70, P265GH, P295GH...)

Alloy Steel - ASTM A 335 Gr P11, P22, P5, P9, P9.1, P9.2, X20, 15CD205, 15Mo3, 15NiCuMo

Stainless Steel - TP 316, 316L, 304, 304L

High Chrome Steel

High Nickle High Chrome Steel

Inconel

Monel Metal

Copper Alloy


Titanium

(Grade 1, Grade 2, Grade 3, Grade 4, Grade 5)

Line Pipe - API 5L X52 / X65 / X70 / X80 – X100, A106 Grade.B / Grade.C / P1/ P9, A312TP304, TP316

Inconel 625

Incolloy 600H



Bending machines, bending machine, fabrication machine, metal bending, steel bending, bent tube, heating tube, metal bender, bender machine, steel bender, hines bending, hines bending systems, HBS, tube fabrication, bending tools, bent pipe, metal benders, pipe bent, tools for bending, bending mandrels, forming tube, tube forming, bent tubing, cnc bending, fabricating equipment, tube wall thickness, bent pipes, hydraulic tubing bender, hydraulic tubing benders, pipe forming, steel tube bending, bending hydraulic tubing, bending steel tubing, cnc bender, copper tube bending, hydraulic tube benders, hydraulic tube bending, exhaust pipe bending, fabricating services, metal bending equipment, metal bending machines, pipe bender for sale, steel bending machine, steel bending machines, tubing bender for sale, hydraulic bending machine, pipe benders for sale, aluminum tube bending, bending aluminum tube, bending aluminum tubing, bending square tube, bending square tubing, cnc bending machine, cnc tube bending, copper tube bender, exhaust pipe benders, exhaust tubing bender, square tube bending, square tubing bender, steel tubing bender, tube bender for sale. tube benders for sale, tube bending tools, aluminum pipe bending, bending aluminum pipe, bending machine manufacturer, bending machine manufacturers, cnc bending machines, copper tube benders, copper tubing bender, induction bending, metal bending tools, square tubing benders, tube bending mandrels, tubing bender plans, bending stainless steel tubing, stainless steel tube bending, thick walled tube, tube bender dies, tubing bender dies, bending machines for sale, cnc tubing bender, mandrel bent tubing, pipe bender dies, tube bending dies, metal tube bender, pipe bender die, pipe bending dies, pipe bending machine hydraulic, tube bender die, tube end forming, tube forming machine, cnc tube bending machine, hydraulic bender machine, hydraulic tube bending machine, hydraulic tube bending machines, pipe bending fabrication, pipeline fabrication, stainless steel tubing bender, tube bending and fabrication, tube forming machines, aluminum tube bender, cnc tube bending machines, pipe forming machine, tube bending program, tube bending services, tube bending software, tube forming equipment, baileigh benders, induction heating manufacturers, pre bent tubing, used tube bender for sale, bending manufacturing, bent aluminum tubing, cnc pipe bending machine, pipe bending machine manufacturer, pipe bending machine manufacturers, plate bending machine manufacturers, tube bender manufacturers, tube bending company, tube bending inc, aluminum bending machine, mandrel bender for sale, mandrel benders for sale, sheet bending, machine manufacturer, tube bending machine manufacturers, tube bending machines for sale, tulsa tube bending, baileigh pipe bender, baileigh tube bender, baileigh tubing bender, induction heating machine manufacturer, baileigh pipe benders, baileigh tube benders, eagle bending machines, ercolina pipe bender, ercolina pipe benders, ercolina tube bender, hydraulic mandrel, pines tube bender, precision tube bending, tube end forming machines, used tube bending machines, american pipe bending, ercolina tube benders, exhaust bending machine, induction hardening machine manufacturer, induction heating aluminum, metal pipe bending machine, pipe fabrication companies, pipe fabrication equipment, tube fabrication equipment, mandrel pipe bender for sale, square tube bending machine, used mandrel bender, bending machine die, exhaust pipe bending machine, mandrel bender machine, square pipe bending machine, tube benders manufacturers, copper tube bending machine, pipa bent, induction heat treating equipment, square tube bending dies, huth exhaust bender, used baileigh tube bender, ercolina mandrel bender, soft copper tubing bender, used ercolina tube bender, round tube bending dies, induction bends manufacturers
Nominal PIpe Size in

Outside diameter O.D. (mm)

BENDING RADIUS (mm)

Angle Bending ø

Tangent Length at Each End

Wall Thickness (mm)

3D

4D

5D

6D

8D

10D

3"

89

267

356

445

534

712

890

90°, 60°, 45°, 30°, 22.5°, or as per the choice of purchaser

350

Sch STD, Sch 10, Sch 20, Sch 30, Sch 40, Sch 80, etc or as per the choice of purchaser

4"

114

342

456

570

684

912

1140

350

6"

168

504

672

840

1008

1344

1680

350

8"

219

657

876

1095

1314

1752

2190

700

10"

273

819

1092

1365

1638

2184

2730

700

12"

325

975

1300

1625

1950

2600

3250

700

14"

356

1068

1424

1780

2136

2848

3560

700

16"

406

1218

1624

2030

2436

3248

4060

700

18"

457

1371

1828

2285

2742

3656

4570

1000

20"

508

1524

2032

2540

3048

4064

5080

1000

22"

559

1677

2236

2795

3354

4472

5590

1000

24"

610

1830

2440

3050

3660

4880

6100

1000

26"

660

1980

2640

3300

3960

5280

6600

1000

28"

711

2133

2844

3555

4266

5688

7110

1D (Outside Diameter of bend) or as per the choice of purchaser

30"

762

2286

3048

3810

4572

6096

7620

32"

813

2439

3252

4065

4878

6504

8130

34"

864

2592

3456

4320

5184

6912

8640

36"

914

2742

3656

4570

5484

7312

9140

38"

965

2895

3860

4825

5790

7720

9650

40"

1016

3048

4064

5080

6096

8128

10160

42"

1067

3201

4268

5335

6402

8536

10670

44"

1118

3354

4472

5590

6708

8944

11180

46"

1168

3504

4672

5840

7008

9344

11680

48"

1219

3657

4876

6095

7314

9752

12190

50"

1270

3810

5080

6350

7620

10160

12700

52"

1321

3963

5284

6605

7926

10568

13210

54"

1372

4116

5488

6860

8232

10976

13720